Arts and Entertainment Community
After an unexpected two-year hiatus, the Gig Harbor Film Festival is back in full force this week.
For four days – from September 22 to 25 – the screens of the Galaxy Theaters Gig Harbor will light up with 61 films. Among them are two world firsts, five firsts in Washington State and several American firsts.
Eight of this year's films were made locally. Many directors will be on hand to discuss their work.
'Ventures' opens the festival
Each film gets at least two screenings – which makes the Gig Harbor festival unique, according to Pam Holt, executive director of the Gig Harbor Film Festival.
"We're all about the whole experience — engaging with an immersive film, being with other moviegoers and the connection that's created, supporting the craft of independent filmmakers, and supporting our local arts community," Holt said. . "Well, all of that, and also supporting our local businesses."
The festival opens Thursday night with a special three-screen screening of "The Ventures: Stars on Guitars," a documentary about the world's No. 1 instrumental rock band.
Since their Tacoma debut in 1958, they have changed the way rock musicians view the guitar. The film will be screened at 6:30 p.m. Thursday, in three theaters simultaneously.
(Spoiler alert: Ventures band member Raiyuki flew in from New York and he and the family of Ventures co-founder Don Wilson will be available for a Q&A after the film at the IMAX theater.)
what you will see
The festival's curatorial team has selected each film, and each has special attributes.
Some samples:
"Ancestral Waters" traces the Puyallup Tribe's struggle for their treaty rights, waters and way of life since the signing of the Medicine Creek Treaty. "Ancestral Waters" plays at 5:15 p.m. Friday and 10:05 a.m. Saturday.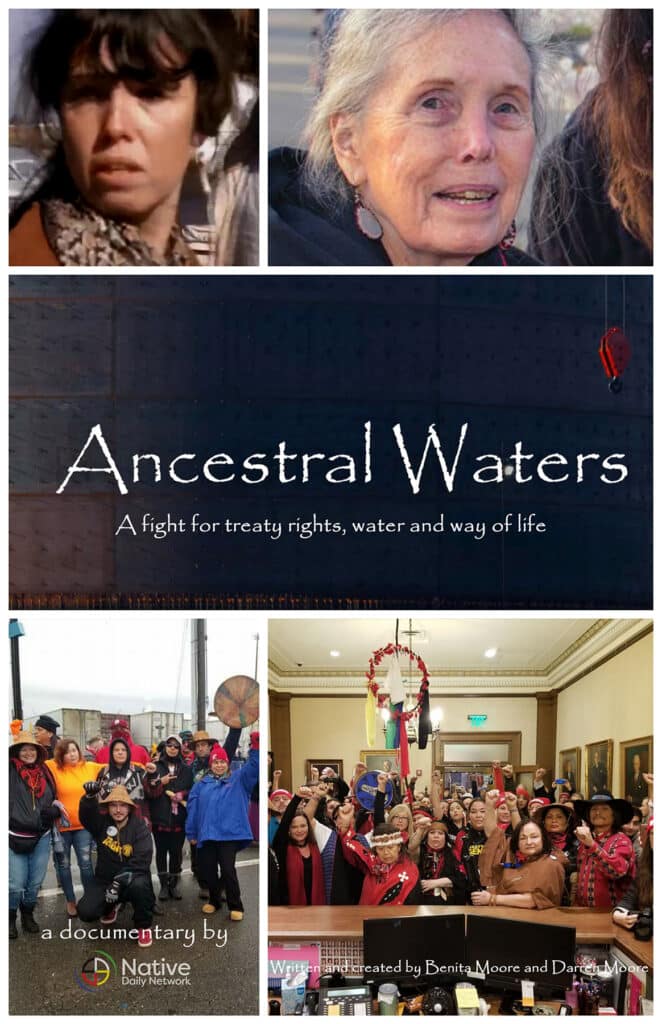 "This land is part of us" explores the shrub-steppe ecosystem of central Washington. Often confused with the desert, the shrub-steppe is a land of rich biodiversity, vibrant communities and poignant beauty. The film is part of the Documentary Shorts series and airs at 9:30 a.m. on Fridays and 11:55 a.m. on Saturdays.
Gig Harbor filmmaker Carly Vester directed both "Rise" and "700 feet down."
"Stand Up" is the story of two women who stand up against female marginalization by undertaking a 70-mile, 48-hour paddleboard race. The film airs at 1 p.m. Friday and 1:35 p.m. Saturday.
"700 Feet Down" tells the story of Galloping Gertie, from the perspective of those who witnessed the construction and collapse of the first Narrows Bridge. The film incorporates the stories of divers drawn to the stories of the giant octopus that lives in the ill-fated bridge's underwater wreck. See this film at 11:35 a.m. Friday or 2:20 p.m. Saturday.
"A serious grievance" is a light-hearted story of Zoe, who carries bricks and cinder blocks on her feet to weigh her down because gravity doesn't affect her. The premiere of this film in Washington State is part of the Shorts series. It plays at 2:05 p.m. Friday and 12:05 p.m. Saturday.
"David Mirisch" introduces audiences to a legendary Hollywood press agent known as "The Man with the Gold Rolodex". His family produced classics such as "Some Like it Hot", "West Side Story", "Moby Dick" and "Fiddler on the Roof". The film will be screened at 6:20 p.m. Friday and 10 a.m. Saturday.
"The Strange Lot" is a collection of 10 "wonderfully weird shorts" including "Tacos for (Reacted), "Freya", "It Can Walk", "Closed for the Weekend" and "Love Me Tinder" that are, well, quirky. Strange Batch will play at 2:40 p.m. Friday and 7 p.m. Saturday.
"Dick's Long Drive" and "SOLDIER" are part of the Documentary Shorts series scheduled for 11:50 a.m. Friday and 2:25 p.m. Saturday.
"Dick's Long Ride: Tour De Volcanoes" is the story of Tacoma-based adventurer Dick Kresser's attempt to climb and cycle the entire active Cascadia range of volcanoes: 16 mountains over 2,400 miles across three states, all in a row, single-player and unsupported.
"SOLDIER" centers on Daniel Krug, a heroic firefighter, father of five, SWAT trainer, and former military sniper who toured Iraq several times and lost many close friends — and almost himself — because of PTSD. Local PTSD support groups will attend the screenings.
"The Dummy Postman" has its premiere in Washington state on Friday. The film follows a 12-year-old boy as he investigates the disappearance of a child in his neighborhood. It plays at 11 a.m. on Fridays and 7:10 p.m. on Saturdays.
Boat stories
"Thunderbird" and "Shenandoah" tell the story of two boats with deep local roots.
"Thunderbird" traces the history of the self-assembly plywood sailboat which was designed by Gig Harbor resident Ed Hoppen and then sold in kits to hundreds of people across the United States. It screens at 6:40 p.m. Saturday and 1:40 p.m. Sunday as part of the Made in Washington series.
The seiner Shenandoah, built at the Skansie Ship Building Company in Gig Harbor in 1925, is currently being restored by volunteers from the Harbor History Museum. Pasco Dorotich and his son John built the boat. Tony Janovich bought it later.
He primarily fished the San Juan Islands salmon shoals, as well as a few trips to Alaska. The world premiere of "Shenandoah," which is also part of the Made in Washington series, is at 11:55 a.m. Friday and plays again at 11:30 a.m. Sunday. The filmmaker will answer questions after the screenings.
Another Made in Washington movie, "Layla's Rain" tells the story of the 1935 dust bowl and a mysterious carnival gypsy who sacrifices everything to save an abandoned blind girl. Producer/director Kit Wilson, whose films have screened at 135 festivals around the world, lives in Gig Harbor. Layla's Rain plays at 6:40 p.m. on Saturday and 1:40 p.m. on Sunday.
And the price goes to…
A highlight of the festival takes place on Sunday, with the selection of the Director's Choice award and its screening at 11:15 a.m. and 1:45 p.m.
The Gig Harbor Festival is a world-class event, Holt said. "There are about 10,000 film festivals around the world, and we're in the top 100."
Despite the two-year hiatus, organizing this year's event was not as difficult as it could have been.
"We pretty much had everything in place in 2021 and then had to cancel at the last minute when it was obvious the pandemic wasn't letting up," Holt said.
"But thankfully most of the filmmakers and other personalities were able to hang on, and they are with this year, as well as most of the films we had selected."
Click here to download the complete program of the festival. General admission wristbands and printed programs are available at Galaxy Cinemas.